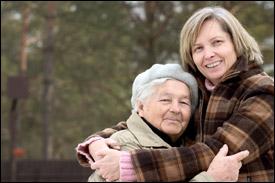 Elizabeth Cooney was a visionary in the nursing-care industry, who identified, decades ago, the emerging and increasingly urgent need for high-quality, personalized care in the United States. Elizabeth's idea of creating a full-service, consumer-directed nursing referral service for individuals, families and facilities was a novelty when she founded the Elizabeth Cooney Personnel Agency in 1957, yet today hers is a tested and successful model for delivering care that is embraced and imitated throughout the country.

While the Elizabeth Cooney vision has become our common practice, the agency's clients will tell you that its reputation for quality, flexibility and customer satisfaction is unmatched. Now owned and operated by its third generation of family members, the Cooney Agency has earned acclaim from the repeat business of thousands of clients. In some families of satisfied clients, the Elizabeth Cooney Personnel Agency is serving the nursing care needs of its fifth generation.

Quality of care has always been a company hallmark. The Cooney Agency has a catalogue of licensed and certified nurses and other care providers that is unrivaled in the industry, and which only five decades of honest and reliable service could compile. Our rigorous screening process ensures that all of our providers have not only the training required, but also the experience and integrity that our clients have come to expect.
Today the recognition and reputation of the Elizabeth Cooney Personnel Agency is apparent in its numerous accolades, appointments and awards. We have been at the forefront of legislative actions to improve the industry and as a service provider, we have set a precedent others strive to emulate. Our agency is recognized by the state of Maryland as both a Nurse Referral Service Agency and a Nurse Staff Agency by the Maryland Department of Health and Mental Hygiene. In all of our actions, we hold integrity and the needs of our clients dear. It is our goal to deliver the highest levels of care to those in need and to drive the industry to achieve higher standards.